A true fashion accessory protecting your fingers from the spokes
---
Benefits
Discover our specificities
Attach without fastenings
Collection of over 700 spoke covers
Very competitive price
Ability to customise with your own image or text
Delivery between 5 and 10 days
International deliveries
Description
Our spoke covers have a wavy circumference and a notch to place your finger in for easy attachment and removal.
Made from a flexible material, (PVC 9/10) they have the flexibility to be bent in order to be inserted in a few seconds behind the handrail on your wheelchair wheels and will hold without needing fixing.The spoke covers are not pressed against the wheel, but will protect your fingers from getting caught in the spokes as the wheelchair is in motion.
---
Patented concept
Measuring the required diameter
As our product is held by the handrail, it is the measurement of the outside of the handrail that will determine the size of the spoke covers. Position the end of your measuring tape on the outside of the handrail, measure directly across the centre of the wheel to outside of the handrail on other side of the handrail. The outer diameter in this example is 52.5 cm.
---
An option adapted to your needs
Our spoke covers attach in seconds. If you need to remove your entire wheel without removing the spoke covers, you should choose the 12 cm option.
---
Flat or Round legs?
We need to know the shape of the connections that hold your handrail onto your wheel.
Tell us if you have flat legs or round legs.
---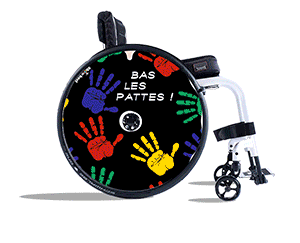 A Showheel spoke cover becomes an interchangeable fashion accessory to customise your wheelchair to an occasion, season or whatever the reason!
---
How our spoke covers are created and manufactured: